Cognitive adverse effects of Parkinson's disease (and its treatments)
IMC Tuesday Seminar: Talk by Andreas Højlund, Department of Linguistics, Cognitive Science and Semiotics, Aarhus University
Info about event
Time
Tuesday 13 December 2022,
at 11:00 - 12:30
Location
Jens Chr. Skous Vej 4, 8000 Aarhus C, building 1483, room 312 and online (https://aarhusuniversity.zoom.us/my/imcevent)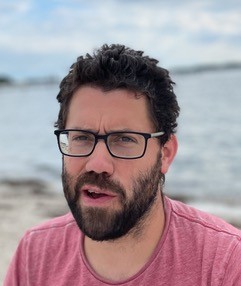 Abstract
Recently, we have seen an increased focus on the non-motor symptoms of Parkinson's disease (PD) – and for a good reason. Be it psychiatric or cognitive adverse effects of PD (and its treatments), PD patients' quality of life is heavily affected by not only the cardinal motor symptoms of slowness of movement, rigidity and tremor, but also by detrimental implications to their executive and linguistic functions (as well as depressive or apathic symptoms). In this talk, I will give an overview of some of the interesting projects we have run and are running in our group to tackle the challenge of characterizing and investigating these cognitive adverse effects of PD: e.g. decreased verbal fluency and response inhibition as an effect of both PD and treatment with deep brain stimulation (DBS), and the potential effects of PD on action language.

About the speaker
I am an assistant professor at the Department of Linguistics, Cognitive Science and Semiotics. My background is in cognitive neuroscience and neurolinguistics with a strong focus on electrophysiology (i.e. EEG and MEG). Since 2015 I've been investigating the effect mechanism(s) of deep brain stimulation (DBS) in Parkinson's disease (PD) – with respect to both its effects on motor and cognitive functions and its direct electrical effects on the relevant neural circuits and architecture.
Contact: Andreas Højlund