Autism@Aarhus 2017 Symposium
7th Anniversary Meeting
Info about event
Time
Tuesday 12 September 2017,
at 13:00 - 16:40
Location
DNC Auditorium, Building 10G, Aarhus University Hospital, Nørrebrogade 44, 8000 Aarhus C.
Organizer
Josh and Raffaele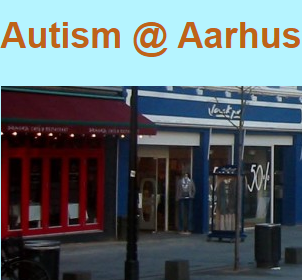 Please come to the seventh Autism@Aarhus Anniversary meeting.
You will hear what is happening now in autism research within, as well as outside, Aarhus University.
ALL INTERESTED ARE WELCOME.
We look forward to seeing you!
Programme
13.00-13.10 Uta Frith
Welcome & Introduction
13.10-13.55 + 10 mins Q&A
John McGrath (Queensland Brain Institute, The University of Queensland; Queensland Centre for Mental Health Research)
Gestational Vitamin D deficiency and autism-related traits: The Generation R Study
14.05-14.35 + 10 mins Q&A
Rebecca Lawson (University College London)
Weighing the past against the present: learning to build expectations in autism
15.45-15.05 Break with Refreshments
15.05-15.25 + 5 mins Q&A
Ingela Visuri (Södertörn University)
Rethinking autism, theism, and atheism: bodiless agents and imaginary realities
15.30-15.50 + 5 mins Q&A
Hanna Thaler (tentative) & Joshua Skewes (Aarhus University)
Autistic traits predict weaker sensitivity to reward in emotion perception
15.55-16.20 + 10 mins Q&A
Jørgen Scheel-Krüger, Freja Bertelsen & Arne Møller (Aarhus University)
The rodent valproate model of autism: chronic and acute valproate models
16.30-16.50 + 5 mins Q&A
Diana Schendel (Aarhus University)
Outcomes, services and care in adults with autism: An update from the Autism Spectrum Disorders in the European Union (ASDEU) project
16.55-17.00 Uta Frith
Concluding Remarks