Meet our new intern - Sofie Vile Laursen
New face at IMC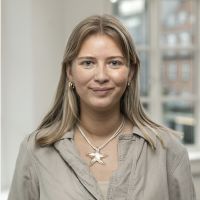 My name is Sofie, I'm 24 years old and I have lived in Aarhus for the past five years.
I started my academic journey by obtaining a Bachelors degree in International Business Communication in French and I'm now part of the Masters programme in Cognitive Semiotics here at Aarhus University where I just started my 3rd semester. After hearing about the IMC throughout my time at Cognitive Semiotics I decided to explore the opportunity of working here and was gladly offered an internship. Since the 28th of August I have joined the EER project where I will hopefully gain some insight into the methodology of systematic reviews as well as assist in conducting a systematic review on combinations of art and cognitive science.
I look forward to spending a lot of hours at the IMC and meeting all of you in the following weeks. I hope to contribute to the EER project in a meaningful way and look forward to gaining a lot of new skills and knowledge.