New Course in Behavioural Economics
"Behavioral Economics: an introduction to why we act the way we do" by Panos Mitkidis and Andreas Roepstorff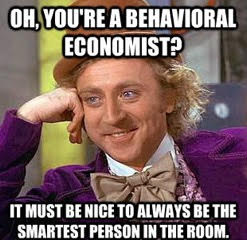 During this semester Panos Mitkidis and Andreas Roepstorff will be teaching a course on Behavioral Economics, an examination of how people make decisions, interact, motivate, trust, cooperate, cheat and love each other.
During the course, the students will have the chance to learn about experimental design, design their own experiments, apply the tools of behavioral economics to problem statements and maybe their own lives.
As a bonus, the class will involve talks from specialists in respective areas, like Dan Ariely, Shahar Ayal, Lars Bach, and others, with whom students will have the chance to interact.